Programming, System Design & Web Development
Baron Tech: Software development
As soon as operational processes become more complex or more individual, standard software solutions quickly reach their limits. So if you want to make your internal processes simpler and more efficient, you need a software solution tailored to your needs, which you can link to your existing IT system.
Individual solutions for your requirements!
Do you want to bring custom software together with your existing IT system or expand your current system? Whether you are looking for a specialised software technology for the planning of business processes or for the management of your finances, our competent IT department Baron Tech is your partner for the integration of individual software.
For years, our software developers have been advising various companies and programming software solutions that can be seamlessly integrated into the existing IT landscape. Our programmers use agile development methods in order to complete customised applications for your company on budget and exactly according to your specifications.
Cybersecurity is not easy to achieve. With attack patterns changing almost daily and hackers becoming more sophisticated, cyber security and appropriate measures need to be clearly defined.
Here we show you some examples of what we have already implemented for our clients and how we work together.
Customised software solutions
From creating a scalable backend to web-based business applications, our software developers use proven open source technologies to programme software solutions for you that grow with your future challenges. At the same time, you can perform tasks faster in your business thanks to intuitive user-friendliness. Adaptive software technology also contributes to this, ensuring that all applications are optimally adapted to mobile and desktop devices. A clear competitive advantage for you!
Requirements analysis & consulting
In a first step, we analyse the structures and challenges of your company. In doing so, our developers include your needs and jointly define all important core requirements. At the centre of this analysis are the questions of which processes can be optimised and how individual software solutions can be used profitably. Our programmers then create an initial design for you. Of course, you will receive comprehensive and descriptive documentation of the new software.
If you have any questions about the application of the technologies and infrastructures, our developers are ready to advise you. We will also give you an outlook on future application possibilities. This will give you a precise idea of your software and its user interface in advance.
 
Comprehensive requirements analysis & descriptive documentation
Business process modelling
Creation of a first design
Software engineering & infrastructure consulting
Database & web solutions
User-friendly user interface
Proven open source technologies
Adaptations & individual reprogramming
Cleanly programmed software
Software development
In order to successfully optimise your processes and save you costs in the long term, our software developers look at the existing conditions on your premises. Taking this inventory analysis into account, a business process modelling is carried out, on the basis of which a software is developed that is specifically tailored to your wishes. Thanks to our intensive customer communication, we involve you throughout the entire development process. In the process, you can already familiarise yourself with the applications of the software.
In agile development, we attach great importance to a high degree of user-friendliness and optimal integration into the existing IT system. Perfect interaction of all modules as well as a well-structured programme code is essential in order to interlock individual components and develop them into a high-performance overall system. Highest quality and a low susceptibility to errors are always guaranteed even with this agile approach.
 
Business process modelling & on-site inventory
Intensive customer communication
High user friendliness
Integration into the existing IT system
High-performance overall system
Interaction of all modules & structured programme code
Highest quality & low error rate
Independent of operating system
Adaptations or extensions possible at any time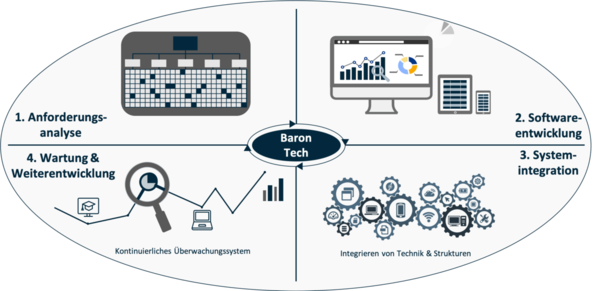 Interface Development & System Integration
To enable a flawless exchange of commands and data between the different systems, it is important to create links. This is because software does not usually stand alone, but must work together with other applications.
Therefore, our computer scientists take care of the data exchange in advance. We define the data to be replaced and control all interaction processes of the system. With an automatic transfer of all relevant data, we not only save time, but also avoid possible sources of error. An extension of the already existing interfaces is also possible. So if there is a need to catch up with the individual software, the project management can make adjustments at any time.
 
Creation of links & automated data exchange
Control of system-relevant interaction processes
Extension of already existing interfaces
Structured information & data flows
Structuring of complex financial market data
Integration into existing systems
Complete application development
Adaptation to in-house systems
Further counselling & development
We work carefully and test all functions of the provided application as well as its optimal integration into the existing IT landscape. We know that your customised software must not only be expertly programmed and powerful, but above all convincing in practice. For this reason, we carry out extensive tests in all phases of software development and afterwards.
Even after the application development of your new software solution, you can continue to count on our support. If you want to add new functions or make adjustments, our consultants and developers are also available. 
Extensive testing in all phases
Extension of the software after development
Comprehensive documentation & advice on operating the software
Seamless software development into existing IT system
Continuous improvements through agile development methods
Competitive advantage through innovation & individuality
Highest quality & low error rate
Baron Investment
Are you interested in our services? We will be happy to advise you!
Baron Investmentvertriebsgesellschaft mbH
Hauptgeschäftsstelle Hamburg
Gänsemarkt 44
D-20354 Hamburg
Phone: +49(0)40 / 18 04 074-0
Fax: +49(0)40 / 18 04 074-77
E-Mail: info@baron-investment.com
The fields marked with * are mandatory